Megacurve Metal Hot Rod Bumper Sticker Vector Logo Design

Megacurve Metal Hot Rod Bumper Sticker Vector Logo Design sample as a PDF file. 10" x 3" design for Cafepress.
---
Mustang Camaro Corvette Porsche Phillip Island Race Vector T-shirt Design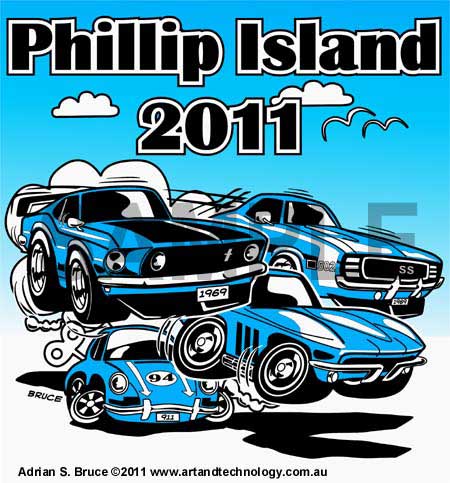 A 1969 Mustang, a 1969 Camaro and 1965 Corvette beating up a 1968 Porsche 911 on a Phillip Island Race t-shirt design. The vector design was done as color and black and white.
---
Fast Bricklaying Trowel Dragster logo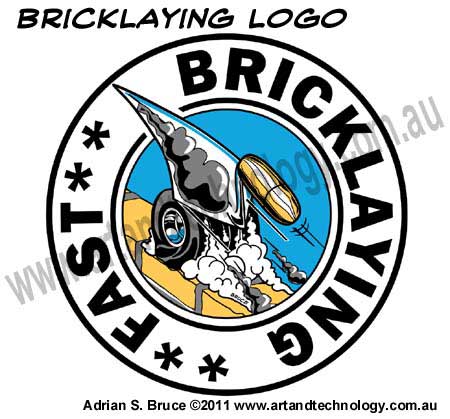 A vector based logo design of a Fast Bricklaying Trowel Dragster.
---
Orrcon Ford V8 Supercar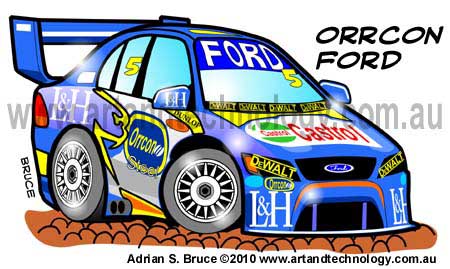 A vector based design of the Orrcon Ford V8 Supercar. Australian touring car royalty.
---
Hot Rod V8 VW Kombi Van hot rod cartoon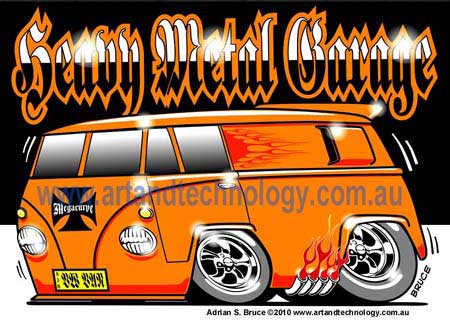 A vector based T-shirt design of a Hot Rod V8 VW Kombi Van. The Kombi van is an iconic design that isn't normally as tough as this one!
---
Nostalgic, old school, front engine Nitro Fuel Dragster Caricature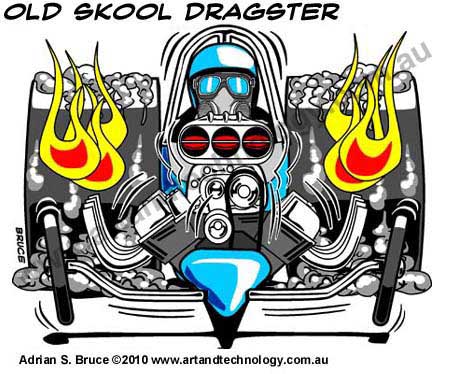 Nostalgic, old school, front engine Nitro Fuel Dragster and driver.
---
1965 Chevy Hot Rod Caricature hot rod cartoon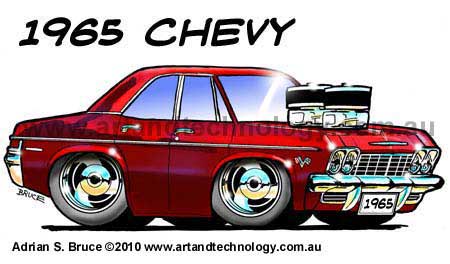 1965 Chevy Hot Rod. American Muscle Car.
---
Sample T-Shirt 3 color Vector Logo PDF

Sample Three color T-Shirt Vector Logo PDF file in black, white and gray.
---
R11 Refueller Caricature hot rod cartoon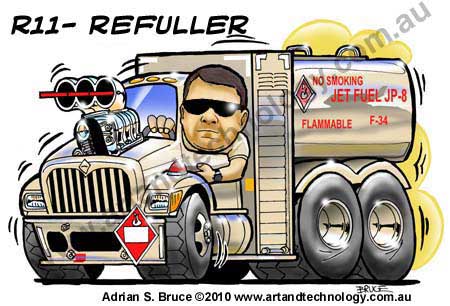 The R11 Jet Fuel Tanker Truck, as you will find stationed in the middle east.
---
Cruizin Old Style Hot Rod T-Shirt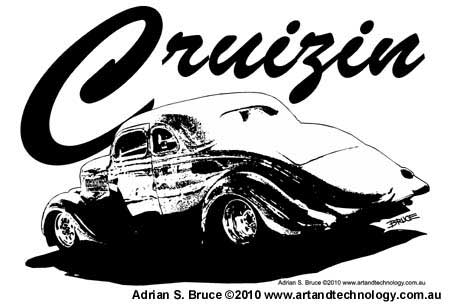 A black and white vector design of Old Style Hot Rod for a single color silk screened t-shirt.
---
Hot Adaptronic Turbocharged Mazda 121 Caricature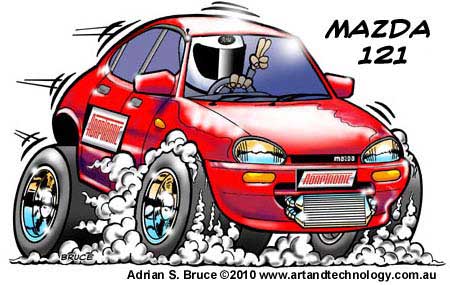 The Adaptronic 14 second quarter mile turbocharged Mazda 121, featuring the world beating Adaptronic ECU.
---
Avatar Amp Suit Nitro Mecha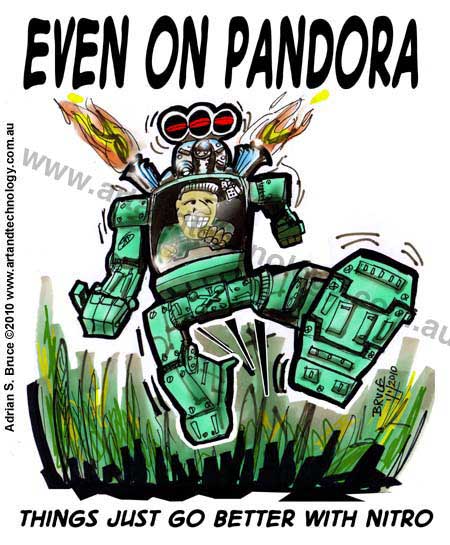 "Even on Pandora, things just go better with Nitro". Quick cartoon in black pen and copic Warm Gray dry marker, that was then simply coloured in photoshop.
---
24 Hours of LeMons Vector Design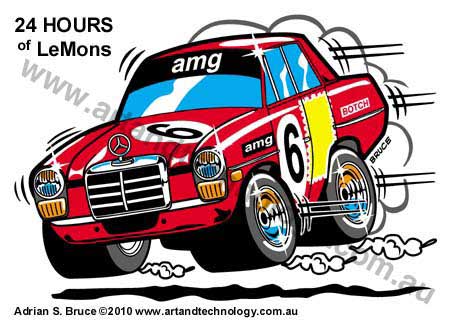 5 color vector design for silk screened race team t-shirts. "Each LeMons race is for cars purchased, fixed up, and track-prepped for a total of 500 dollars or less"
---
Funny Car Dragster - Uncovered hot rod cartoon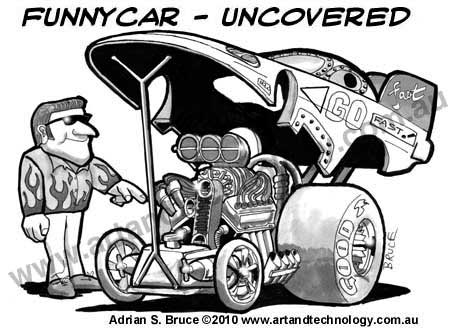 Quick sketch in pen and gray marker. Very much in the style, but with updated tech of, the late Dave Deal's Super Spurt illustration. The crew member is helpfully pointing out the bits that make it go fast.
And here is a 2:14 minute orignal instrumental rock/metal track Burnout.
---
Vector based 1934 Ford Hot Rod Caricature Logo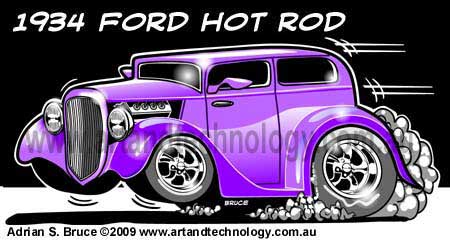 1934 Ford hotrod done as a vector based illustration for use on a business card and garage signage.
---
1957 Chevy Hot Rod Cartoon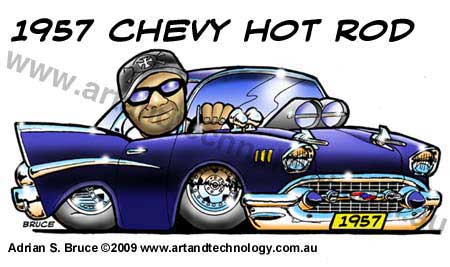 1957 Chevy Hot Rod, and proud owner.
---
Topfuel Biplane Hot Rod Cartoon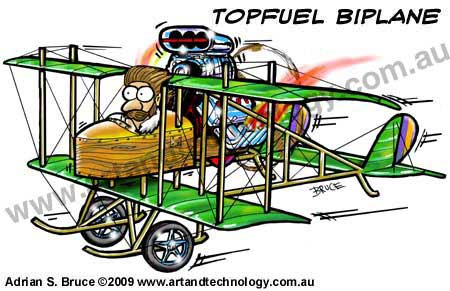 A Topfuel Biplane, something you don't see everyday. Based on a 1914 Farman mf11, and an early 70's dragster chromed blown V8.
---
Joshua Brookes - Honda, British Superbike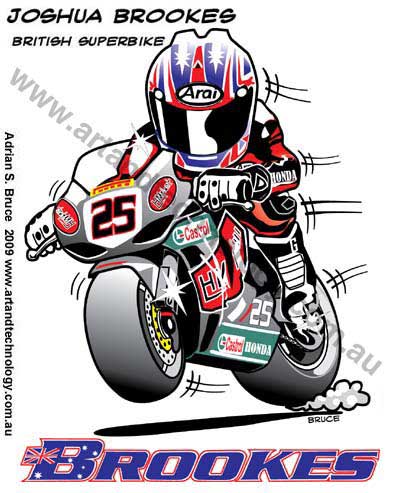 Vector based design for Joshua Brookes, an Australian riding for Honda in the British Superbike competition.
---
Kart Racing Team Logo
A 5 color vector based design for Stir Fry Racing, a Go Kart Team's signage.
---
DRAG-ON Alcohol Funny Car T-Shirt Design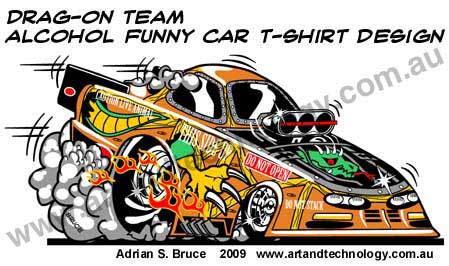 A 6 color vector based design for silk screen printing t-shirts for an Ohio USA based Funny Car Drag Racing team.
---
1967 Ford Mustang - Muscle Car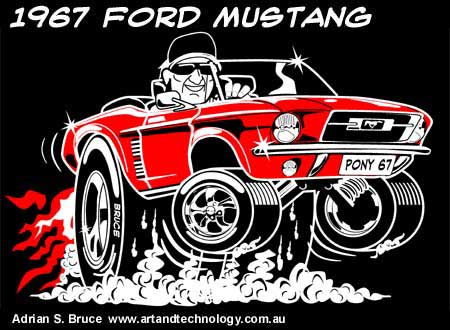 A 2 colour vector based design for silk screen printing a 1967 Ford Mustang on a black t-shirt. The design is in white and red.
---
Logo for Go Kart Videos and News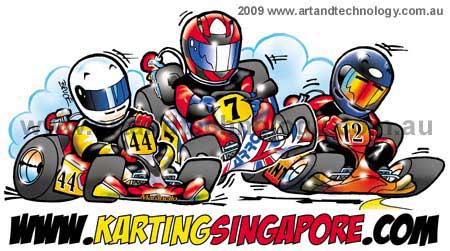 Logo for Singapore based Go Kart Video and News.
---
Nissan Dual Cab Off Road Ute Caricature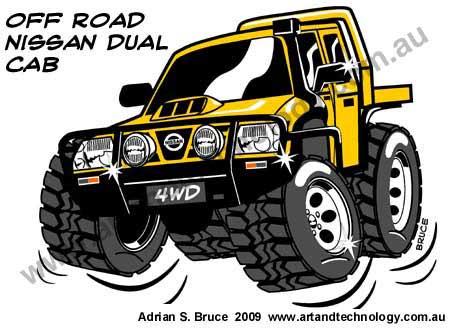 Nissan Dual Cab Off Road Ute. A variation of the design done for CREW CAV. The original is published in the magazine UTE ACTION Issue #21 on page 27.
---
Vector based Go Kart Logo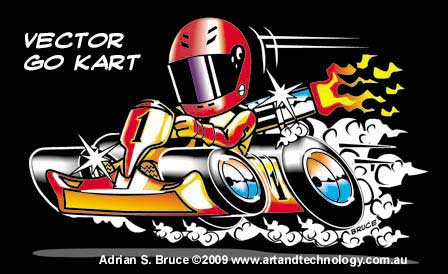 Vector based Go Kart logo, with graduations, and not spot process colors.
---
Bike Rider Logo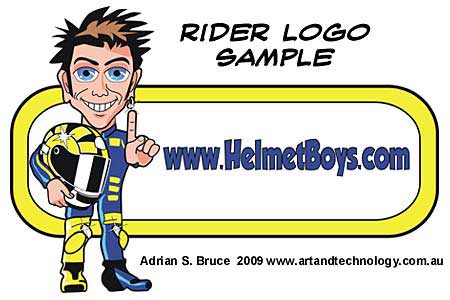 Size independant vector logo for a Singapore based helmet shop.
---
Holden Monaro HQ Caricature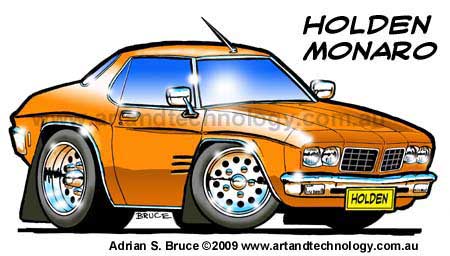 Copic MULTILINER, coloring done in Photoshop. Australian Muscle Car, Holden Monaro HQ.
---
'32 Hot Rod Caricature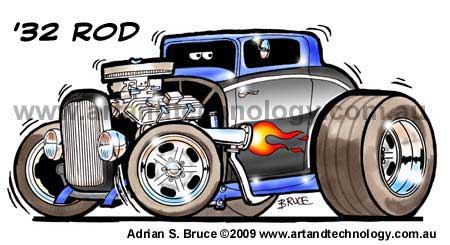 Copic MULTILINER, cool gray markers and coloring finished in Photoshop of a '32 Hot rod with laker pipes...
---
Love is His and Her Sports Cars
A Quick Sketch done with Copic MULTILINER, cool gray markers and coloring finished in Photoshop of a MGA Roadster and a TVR Vixen.
---
Hot Rod T-Shirt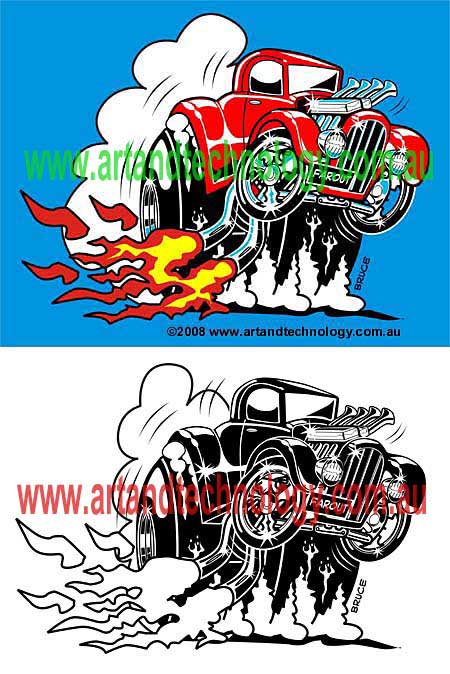 A vector graphic hot rod design for T-Shirts. Fire belching, tire smoking, old fashioned hot rod cartoon. Monster not included. Shows 5 color (black, white, red, yellow and blue to print on any color tshirt) and 1 color (black to be printed on a white t-shit) silkscreen versions.
---
Nitromethane is for racing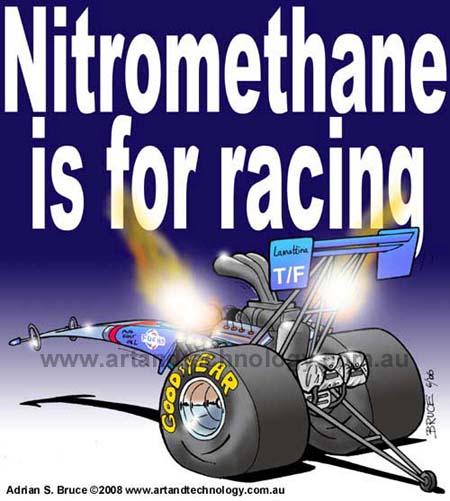 "Gasoline is for washing parts. Alcohol is for drinking. Nitromethane is for racing. Nothing else is exciting."
---
Explosive Racing Quad Bike T-Shirt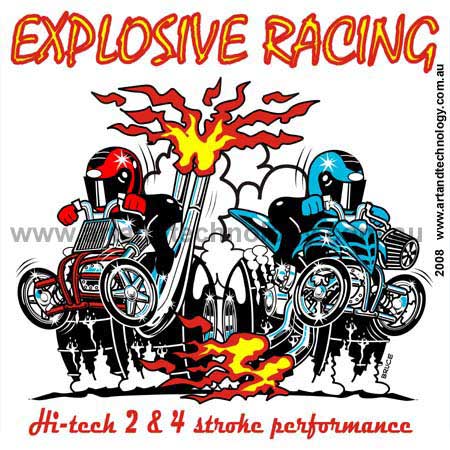 A vector graphic concept for a drag racing, QUAD Bike Business. Black plus White and 2 color variations. Turbo charged 4 stroke and 2 stroke, high performance, fire breathing, tire smoking monsters.
---
Dodge Hot Rod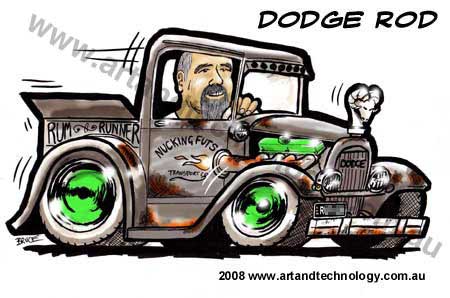 A quick sketch of a Dodge street machine. Copic MULTILINER and dry marker, with additional photoshop touchup.
---
Truck Business Logo
A vector graphic logo for a truck based business in Black & White and Color. Image rendered with 24 layers in CorelDraw, for reproduction at any size.

This is a sample pdf file, a variation of this design, for your evaluation of this format.
---
V8 Muscle Car Racing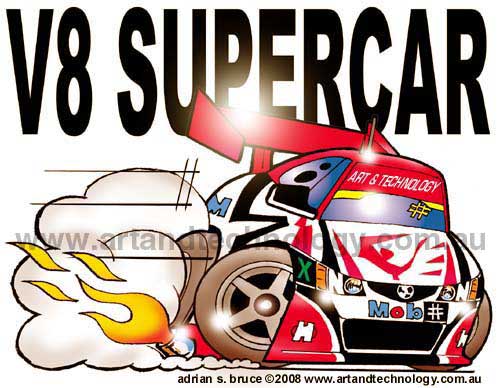 A variation for OZ V8 touring car action.
---
Redback Bike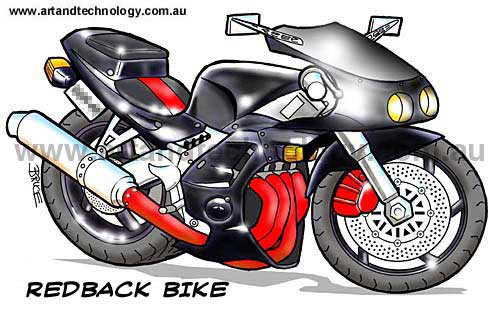 Sydney based, custom bike with a Redback spider theme.
---
Topfuel Dragster BAROOM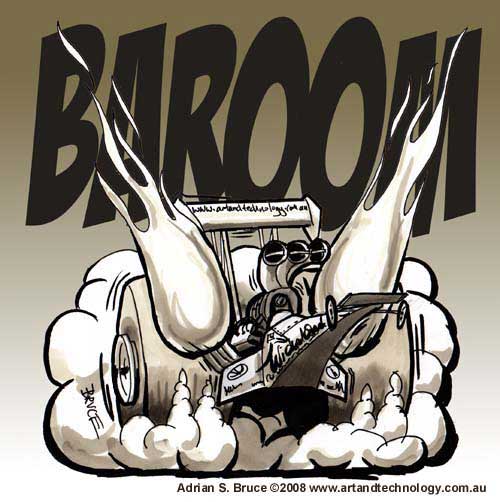 A quick cartoon sketch, pen and cool gray dry marker. Topfuel dragsters are LOUD. VERY LOUD.
---
Mach1 Kart Racing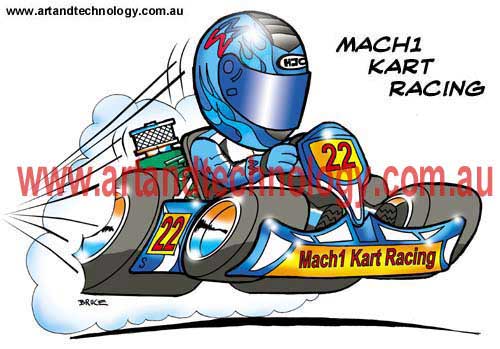 Logo for Mach1 Kart Racing, for an indoor Go Kart Racing business, Kansas USA.
---
Clinton Sheridan - Champion Quad Bike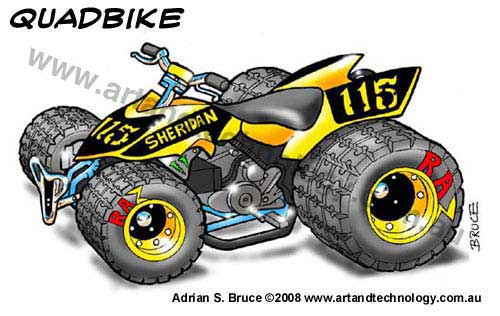 Clinton Sheridan Quadbike Champion's steed.
---
Ford GT40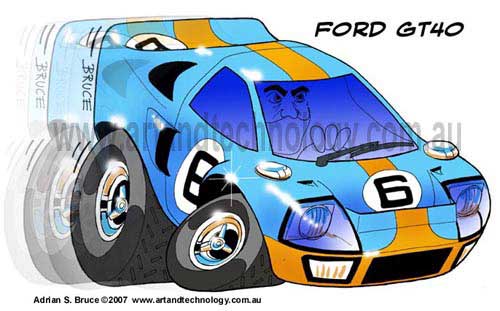 The Ford GT40 was designed to win Le Mans for the American Company. It did, and probably still could....
---
David Tan - GoKart Champ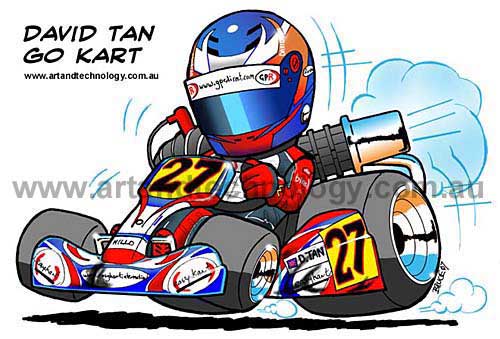 UK's GoKart Champion, David Tan.
---
Dry Marker Apocalypse Now Drag Race Funny Car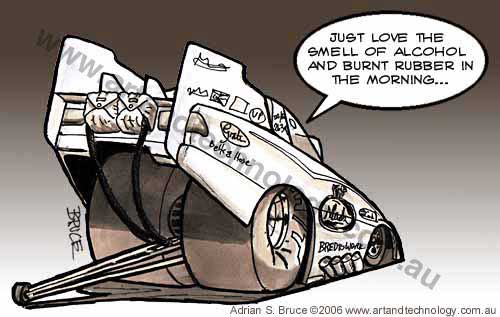 Ben Bray, "Benny THE KID", in his Mack Truck Sponsored Top Alcohol Funny Car in a Apocalypse Now vibe, "Just love the smell of Alcohol and burnt rubber in the morning", which is surprisingly appropriate for Funny Car racing.
A quick rough sketch toned with dry marker and made into a cartoon in Photoshop. A Funny Car is already a caricature of a car, so here it ends up as a cartoon of a caricature.
---
TA/FC Funny Car with wheel bounce at 400Km/hr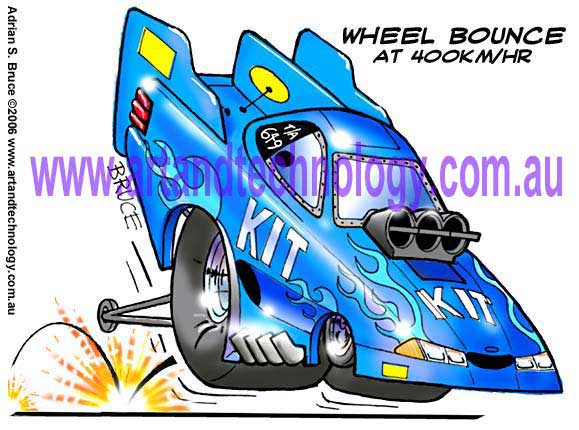 Brett Steven's Top Alcohol Kitten Car Care Products Funny Car has a problem with bounce at 2/3 of a quarter mile. It bounces all over the track and the sparks fly. Terrifying.
---
Photorealistic Lamborghini Murcielago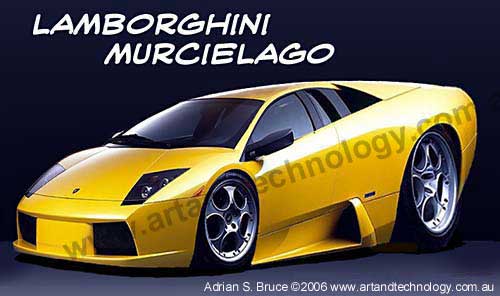 Lamborghini Murcielago, "Puts the fear of God into you. And we wouldn't have it any other way." to quote Jeremy Clarkson .
And in keeping with the Topgear interest in environmental friendly "green" cars that don't kill baby fur seals or cut down rain forests, here is a green car.
This time with a bit of technology thrown into the tool kit to make it photorealistic. This was just done in Photoshop, but we also have Elastic Reality to warp things in a more controlled way.
---
Nitro Topfuel Dragster, fastest Carrot Farmer in the country.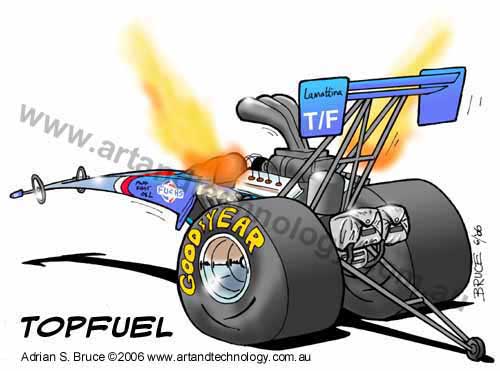 Nitromethane burning Topfuel dragster. Darren Morgan has Australia's fastest Oil Fuchs Topfuel machine. The smell, the noise, the flames and the carrots. Lamattina, the other sponsor, grow carrots. Lots of 'em.
---
Star Kids 3 Logo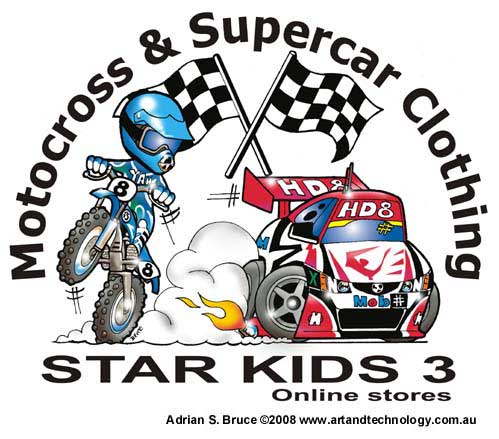 Online Motor Sport Clothing Store Logo. Motocross Bike and V8 Supercar based.
---
Formula 1 Shadow DN1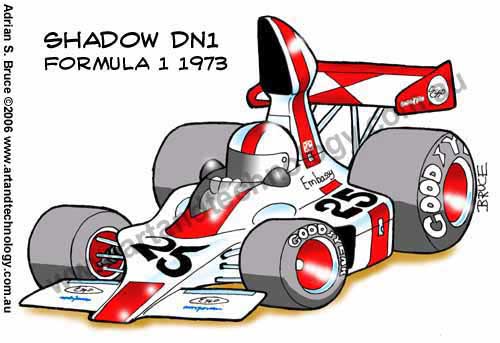 Shadow DN1 from Formula 1 around 1973 when they had high airboxes and huge slick tires. The current F1 cars have narrow ribbed tires, and despite being the fastest cars ever due to aerodynamic design, don't have the appeal of the older machines. The races are dull too... and by shear coincidence, this car is on the cover of MAY/JUN 2006 Vintage Motorsport magazine!
Note that CART cars still look a lot like this. The winner of the 2006 Indy 500 looks a lot like this, 30 years later.

---
Jack Daniel's Drag Racing Doorslammer
This is a drag racing doorslammer, doing the Australian circuit. Old style bodies on Supercharged V8s. Photographs and video do not express what you FEEL when these monsters roar.
The Top Alcohol Funny Car, TA/FC, is also back racing in Australia, mostly by the same Doorslammer teams. See them at WSID, Western Sydney International Dragway, and with TV coverage on Speed Machine and Speed Week.
---
Lamborghini Gallardo
This is a quick color test of a Lamborghini Gallardo. The type of 4 wheel drive that isn't out of place in the city, a country road, or anywhere everyone isn't related. This is the first supercar since the Countach to catch my eye.
---
Holden V Ford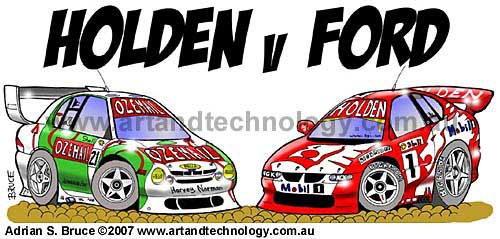 V8 Supercars, Holden V Ford, nose to nose, in Australian Motorsport.
We have a 2011 variation, Olden V Furd, of this as a poster in the online store:

---
"Pixar Cars" styled Holden V8 Supercar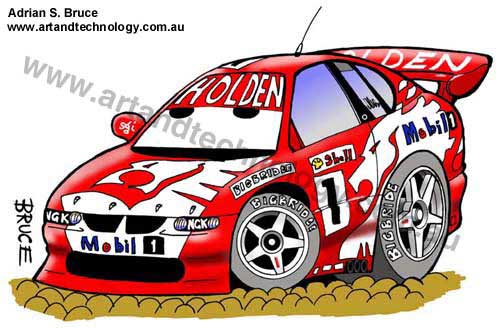 V8 Supercars kind of have the same place in Australian motor sport as NASCAR racing has in American. Pixar's CARS features talking cars, and this could be how Holden would look.
---
Australian Bea-UTE-y
The UTE is the Australian Trademan's sports car. The working mans V8 2 seater that also can carry a load. The ideal partner would have sex appeal, not mind a beer or three and have a matching checked shirt.
The original is A4 400dpi CYMK. Enquires for T-Shirts of this design welcome. Here is a detail of the sexy girl from this illustration.

---
1971 Can-Am DN2 Shadow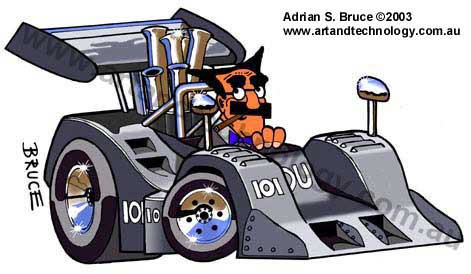 The lead free with UOP Shadow cars were a bed of unsuccessful ideas in Can-Am. A series that produced the fastest road racing car ever, the Porsche 917/30.
This is the logo for the Corner Two Racing column in the Canadian motorsport magazine, Performance Racing News.
---
Monster Drag Racing Top Fuel Funny Car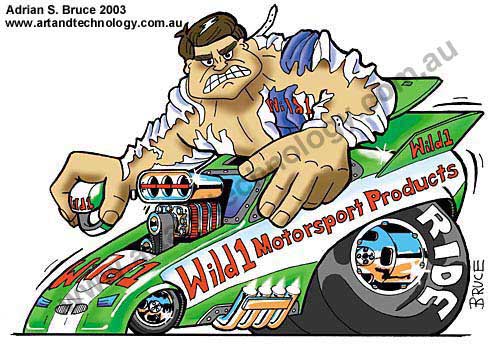 Nitro Funny Car...these earth shaking drag racing machines are probably the second most awe inspiring machines man has made, after the Saturn V rocket!
When I get high I get high on speed
Top fuel funny car's a drug for me
- Kickstart My Heart, Motley Crue
Original logo is A4 at 600dpi.

---
2001 Ozemail Ford V8 Supercar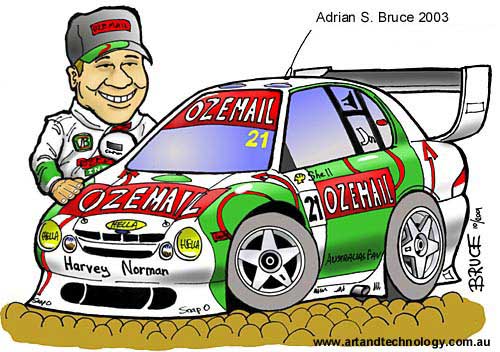 The Bathurst 1000 is the biggest road race on a public road in Australia. Brad Jones shown here with his car.

---
Mark Skaife with Holden V8 SuperCar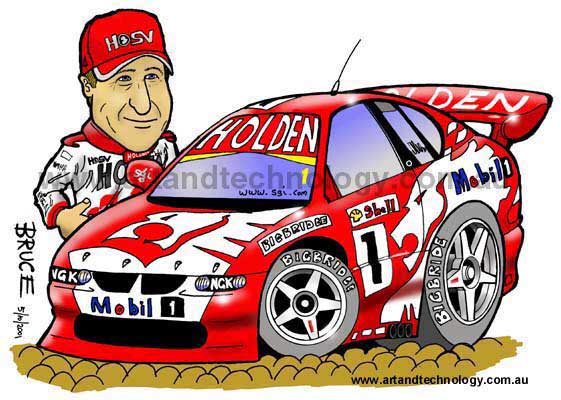 Holden vs Ford is a big angle in Australian motorsport, and this is a cartoon of the former, and winner of a race in October 2001. Mark Skaife with his car.
---
Valentino Rossi Motorcycle Champion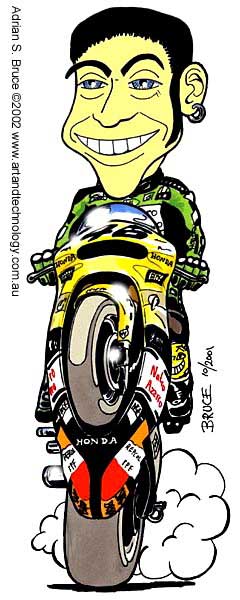 Motorcycle racing is something my father has always followed, but Valentino seemed to have been noticed by everyone in 2001.
---
Lemans 1971 Gulp Porsche 917k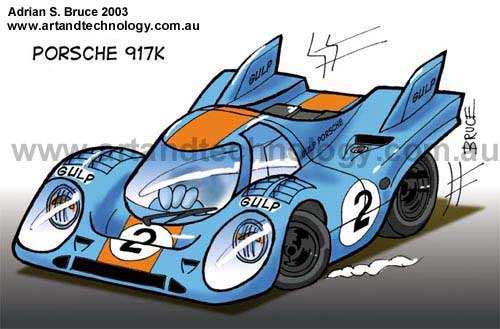 This finned Gulf Porsche is what closed cabin sportscar racing was all about in 1971. Aggressive and shark like here.
---
Lemans Martini Porsche 917lh 1971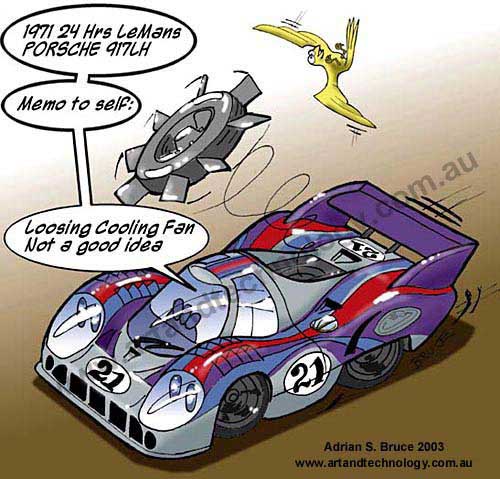 The beautifully finished long tail Porsche 917LH actually lost its cooling fan during the race and the fan went flying. The 917 had an air cooled flat 12. During development they tried blowing the air up and down, but went with down. Saying the Porsche engine is air cooled ignores the huge amount of oil and oil coolers used.
---
Lemans 1971 Gulp Porsche 917LH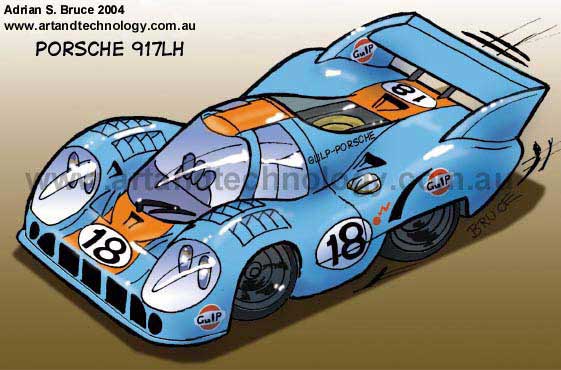 This is the Gulf version of the 1971 917LH. It claimed fastest ever pole time that year.
---
Lemans 1971 Pink Pig Porsche 917-20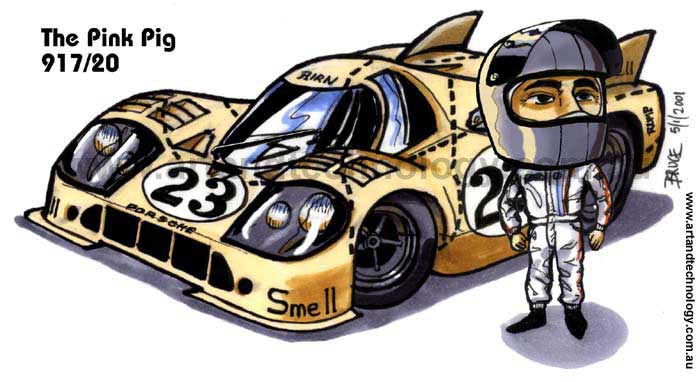 The Pink Pig, 917-20. An experiment, that resulted in a wide squat body, so they painted it up with the cuts of pork. The sponsor, then didn't want to put their markings on it. Amazing.....
Rough sketches done in pen and marker, then put together in Photoshop... the car image doesn't have a driver in front of it. I don't have photos of the drivers either.
---
Can-Am Turbopanzer Porsche 917/10K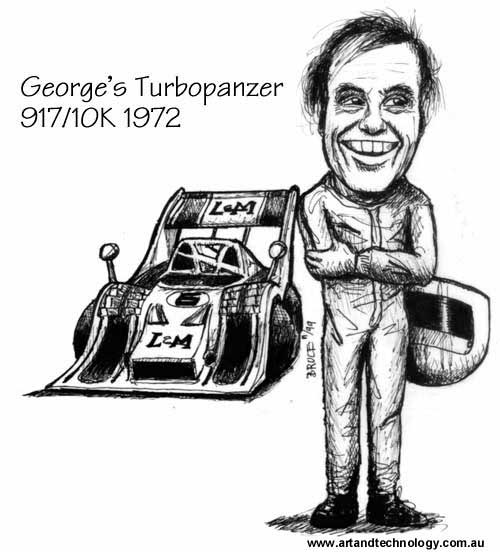 A quick sketch. just pen on paper. The 1972 Can-Am Champion...
---
Can-Am McLaren M20
Denny Hulme was the main McLaren Team driver through most of the Can-Am series.. The Bear. The M20 car itself was easily beaten by the Porsche 917/10s in 1972. Dry Markers and Pen on Paper.

---
Hot Rod: Baron T. Daniel Hot Rod Cartoon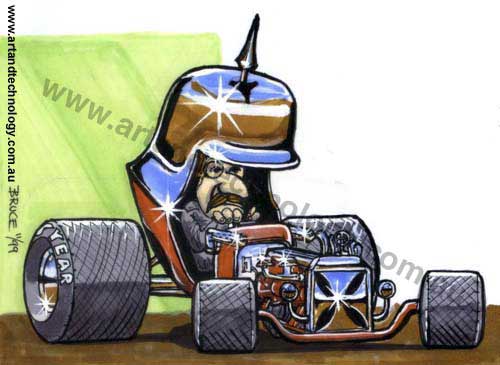 Tom Daniel was a model car hot rod designer, and his most famous creation was the Red Baron. This is a slightly reworked cartoon version. Rough pen and Dry Marker on paper.
---
Can-Am Porsche 917-30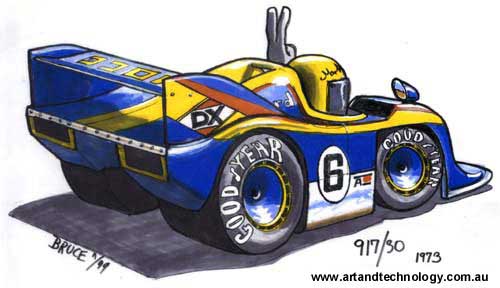 1000bhp, turbocharged road racing perfection. It was too good, and effectively killed CAN-AM racing end of 1974, as it became too expensive to compete. Quick sketch.
---