So here it is,
This is Where The Smoke Comes Out - A Collection Of Memories
I was very inspired by the MIZUKI manga SHOWA, A HISTORY OF JAPAN.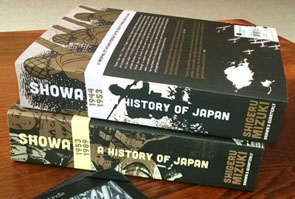 This 4 volume set combined recent history and what Shigeru Mizuki was doing at the time, which was mostly suffering. I found what he was doing really interesting and more so than the actual history, and that started me on this.
Having done the
Terraform
and
Heavy Metal Garage
comics, I thought the use of
Narrative Captions
, and processed photographs would make it doable in a reasonable amount of time. Now have some standard comic drawn panels with speech bubbles as well.
So why would anyone care what I worked on? Well, Fairlight Instruments changed music Technology in the 1980s with the invention of the Sampler and did it from Sydney Australia. I then designed the electronics of the one that sounded good. I then moved to Roland Corporation Japan, the synthesizer manufacturer, working in this mix of Technology and Art. But you will have to read the comic for that.
I posted some draft pages to a comic group on Facebook and received some interesting feedback on the mostly photographic panels giving a credibility that comic illustrations couldn't provide. So I have stuck with it.
I have left out a lot. Almost no mention of my wife and kids. No mention of the really negative things that have happened. No mention of the many people that really helped us. But additional pages can always be put between the existing pages if I felt it was worthwhile doing. Where there is smoke, there is also fire...
This Webcomic is an experiment and to relieve a creative itch.